The brien holden vision institute ltd and mark'ennovy take on myopia and presbyopia in the united states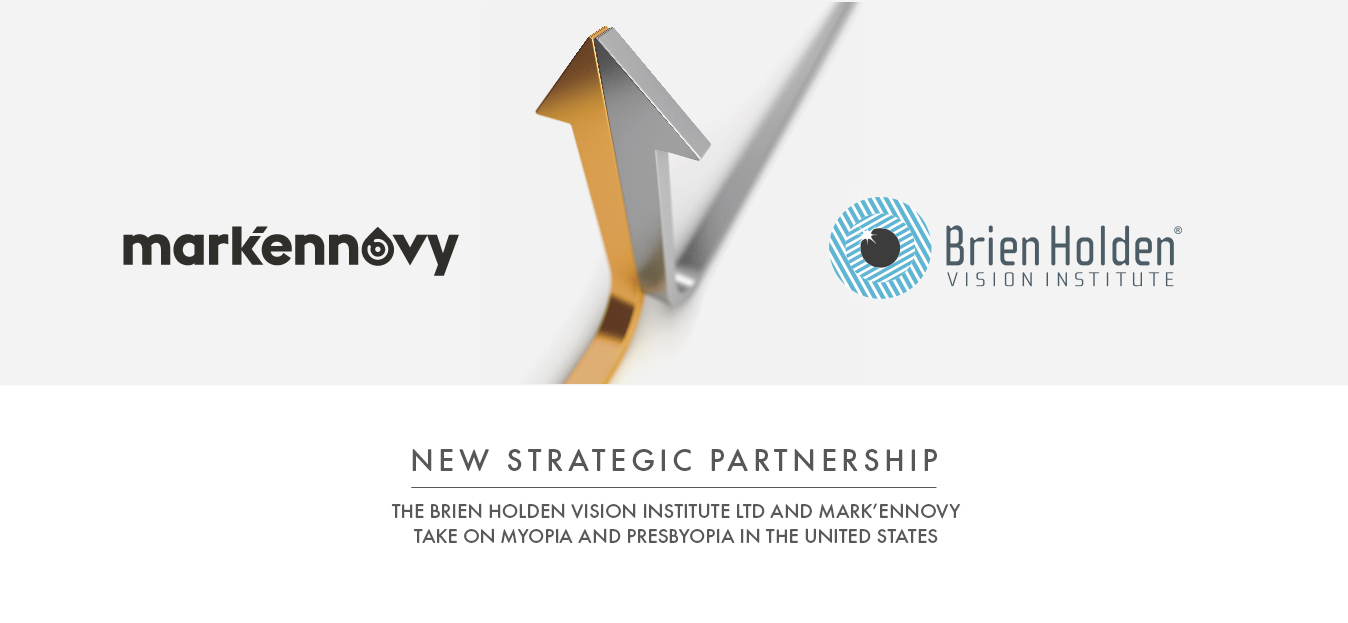 The Brien Holden Vision Institute Ltd, a leading global translational research and vision correction centre, and mark'ennovy, the No.1 independent manufacturer of premium precision soft contact lenses, have signed a second licensing agreement to bring to market a moulded soft contact lens with Brien Holden Vision Institute's patented Extended Depth of Focus (EDOF) design to North America.
EDOF was developed by Brien Holden Vision Institute Ltd to specifically address Myopia Management and Presbyopia, two areas that have been, and will continue to be, at the centre of focus and a challenge for Eye Care Professionals around the world.
Around the world, myopia prevalence is on the rise, with nearly half the world's population estimated to be myopic by 20501. Within the same period, the potential for products that address presbyopia is also expected to grow, as the number of persons aged 60 or over is projected to more than double, to nearly 2.1 billion people worldwide by 20502.
In collaboration, mark'ennovy will draw on its expertise and unique manufacturing capabilities for producing precision soft contact lenses at high capacity/high volume levels with affordable costs, while the Brien Holden Vision Institute contributes with their patented EDOF technology. Brien Holden Vision Institute's EDOF technology is gaining traction at a global level for its contribution to slowing the progression of myopia while providing an improved range of vision (far, intermediate and near). The latter makes for a smoother transition into contact lenses for presbyopes, regardless of their previous experience with wearing contact lenses.
CEO and Founder of mark'ennovy, George Sarrouf commented: "Strengthening our relationship with Brien Holden Vision Institute is an embodiment of our promise to deliver differentiated, precision products and premium service, positioning mark'ennovy to improve the quality of life of new and existing contact lens wearers in the markets where mark'ennovy is present."
Yvette Waddell, CEO for Brien Holden Vision Institute, adds: "We are delighted to expand our partnership with mark'ennovy to address myopia and presbyopia beyond European borders. The presence of EDOF in North America will address the needs of the population."
The announcement of mark'ennovy and Brien Holden Vision Institute's expanded partnership follows the completion of a significant debt and equity funding package in September 2018 expected to accelerate the precision lens provider's new product development.
mark'ennovy, in partnership with Brien Holden Vision Institute, will be working with key professionals in preparation for the launch in North America.
ABOUT MARK'ENNOVY
mark'ennovy www.markennovy.com is a provider of precision daily and monthly soft contact lenses. Their unrivalled combination of contact lens parameters, geometries, materials and expert technical advice is backed by world class manufacturing technology and an exclusive focus on the Eye Care Professional.
ABOUT THE BRIEN HOLDEN VISION INSTITUTE
Brien Holden Vision Institute www.brienholdenvision.org is a non-profit translational research, education and public health organisation. It develops new solutions for vision care, especially for myopia and other refractive errors to eliminate vision impairment and avoidable blindness, thereby reducing disability and poverty.
Brien Holden Vision Institute is a social enterprise, investing the revenues from its work into creating scientific solutions and developing and delivering eye care and education programs.
Holden et al. Global Prevalence of Myopia and High Myopia and Temporal Trends from 2000 through 2050. Ophthalmology. May 2016.
World Population Ageing Report 2015 by the United Nations: http://www.un.org/en/development/desa/population/publications/pdf/ageing/WPA2015_Report.pdf