Versa one day toric: World's First Made-to-Order Daily Toric Contact Lens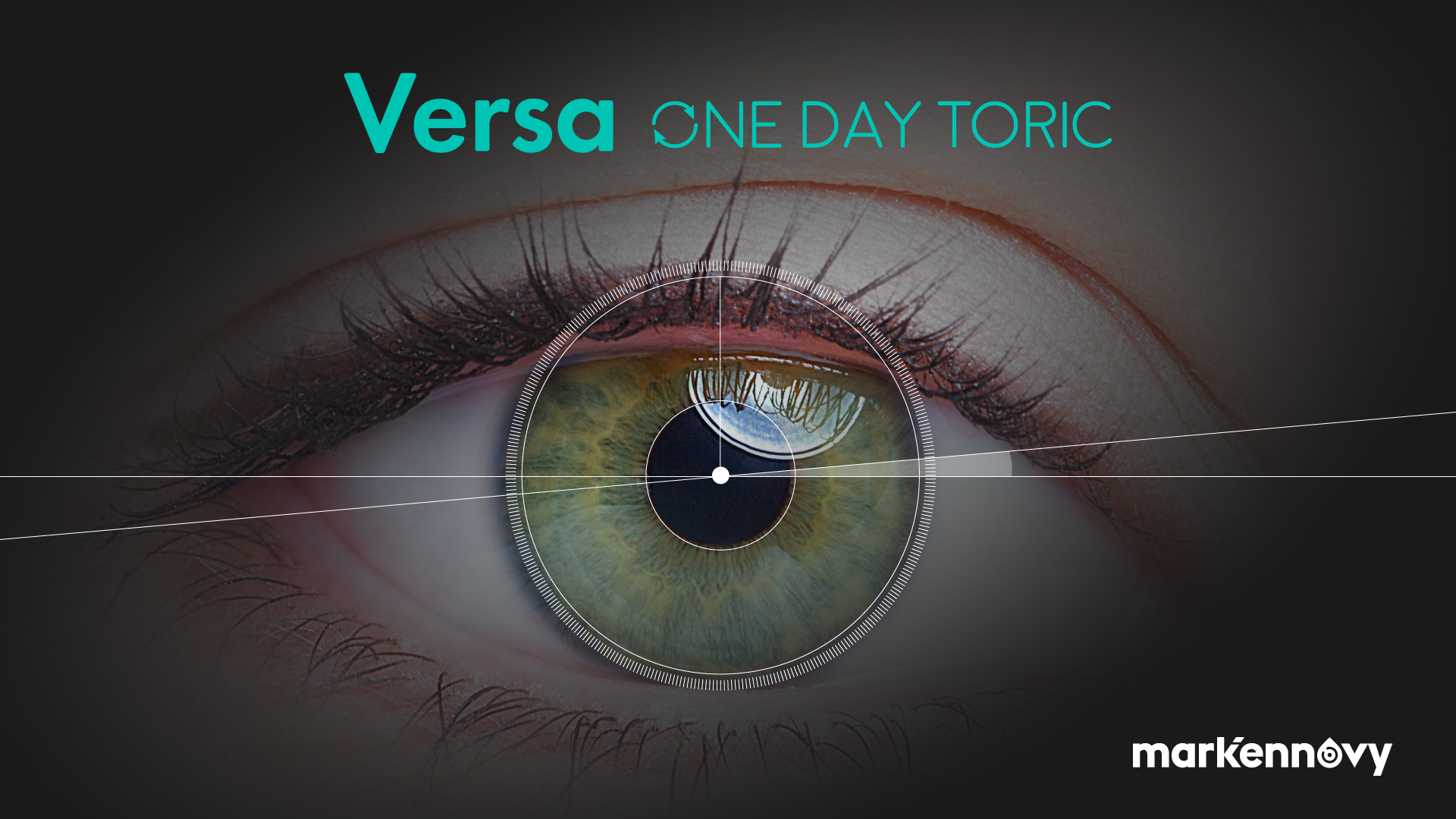 mark'ennovy is pleased to announce the launch of Versa One Day Toric, a made-to-order daily contact lens that provides the widest range of spheres, cylinders and axes on the market.
"From our beginnings, we have catered to the uniqueness of each eye, and differentiated ourselves by providing eye care professionals with quality contact lenses that meet each patients' individual needs," states George Sarrouf, mark'ennovy's Chairman and CEO.
Versa One Day stays true to mark'ennovy's precision-based approach to contact lenses whilst establishing the brand's presence in the fast-growing daily segment.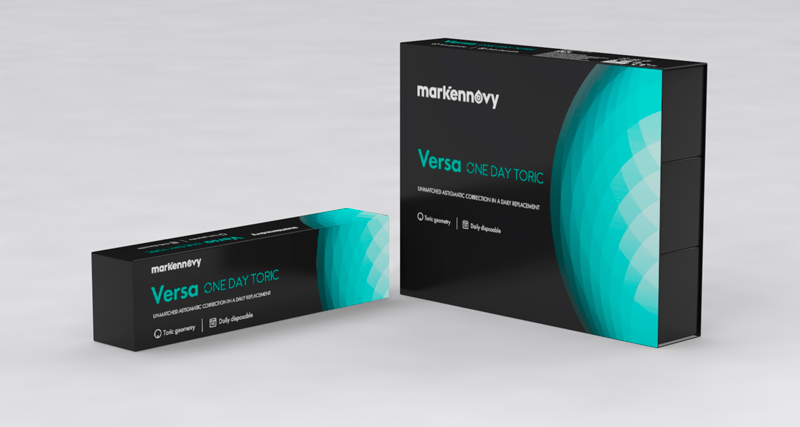 TECHNICAL CHARACTERISTICS FOR VERSA ONE DAY TORIC
| | |
| --- | --- |
| REPLACEMENT | DAILY |
| MATERIAL | HYDROGEL |
| CLASSIFICATION | FILCON IV 1 |
| WATER CONTENT | 55% |
| HANDLING TINT | YES |
| DIAMETER (MM) | 14,40 |
| BASE CURVE (MM) | 8,70 |
| SPHERES (D) | ±10.00 (0.50D steps after ±6.00) |
| CYLINDERS (D) | -0.75 to -5.75 (0.50D steps after -2.75) |
| AXES (º) | 0 TO 180º IN 5º STEPS |
Daily contact lenses are an attractive choice among wearers for their convenience and comfort. However, only a limited number of patients can be fitted with the standard range of options currently available on the market. Therefore, patients who require a higher cylinder or more precise axis are either fitted with a daily lens that is inadequate for their prescription, or they are limited to lenses with a less frequent replacement. Every Versa One Day lens is made-to-order to give your patients an unmatched astigmatic correction in a daily replacement!
| | | |
| --- | --- | --- |
| CONVENIENCE | COMFORT | PRECISION |
| Outdoor enthusiasts | Less deposits | Clear vision in all directions of gaze |
| Part-time wearers | Fewer dry eyes | No influence of eye movements |
| No lens cleaning required | Few allergy problems | Aesthetic appearance |
Versa is now available for order in 30 and 90 packs. Please contact your Business Account Manager to start fitting Versa One Day Toric today!
Visit Versa One Day Toric product page
ABOUT MARK'ENNOVY
mark'ennovy is dedicated to innovation and a forward-thinking approach towards the evolution of the contact lens industry. mark'ennovy's product portfolio is one of the most extensive available on the market in the world with an unrivalled combination of materials, parameters and geometries, catered exclusively to eye care professionals.
CONTACT US
T. 0800 328 0610
F. 0800 328 0649
mkservices@markennovy.com
www.markennovy.com
2 responses to "Versa one day toric: World's First Made-to-Order Daily Toric Contact Lens"