Standaard vs. op maat gemaakte zachte contactlenzen: welke hebben de beste pasvorm?
Nieuwe inzichten in de praktijk van gespecialiseerde lenzen hebben ertoe geleid dat we in het huidige technologische tijdperk anders moeten gaan nadenken over de pasvorm van zachte contactlenzen. Bij toonaangevende instanties en professionals klinkt de vraag naar vaardigheid en expertise bij het bepalen van de pasvorm van zachte lenzen, luider dan ooit.2.
De belangrijkste drijfveer hierachter is de vaststelling dat de voortdurende verbeteringen op het vlak van materialen en de meest geavanceerde optica er niet in zijn geslaagd om de uitval te verkleinen. We kunnen ons terecht afvragen welke rol de commercialisering van standaard contactlenzen hierin heeft gespeeld door het belang van de pasvorm te minimaliseren en onze normen en waarden op het vlak van oogzorg enigszins te ondergraven. In dit artikel belichten we een aantal factoren met betrekking tot de klant, de lens en de professional die in aanmerking moeten worden genomen om de pasvorm en de prestaties van de lens op het oog te verbeteren en zo ook de klanttevredenheid op lange termijn een duwtje in de rug te geven.
Wat achtergrond bij pasvorm
Onderzoek door Rumpakis en collega's (2010) toonde aan dat een verminderd comfort, voornamelijk ten gevolge van droge ogen; slechter of onstabiel zicht; en problemen met de gezondheid van de ogen vaak terugkerende redenen waren waarom mensen het gebruik van contactlenzen opgaven3. Er wordt aangenomen dat hun schatting van een uitval van 30% nog steeds accuraat is voor Europa, wat tot op zekere hoogte zou kunnen verklaren waarom de sector al een aantal jaren geen vooruitgang boekt. Uit een enquête bij meer dan 16.000 klanten blijkt dat 33% van de dragers binnen de 3 maanden nadat ze hun eerste lenzen hebben gekregen, uitvalt, terwijl 1 op 10 het zelfs gewoon al opgeeft na de proefperiode van 2 weken4. Dit wijst er dus op dat oogzorgprofessionals een heel belangrijke rol kunnen spelen: zij moeten de tekenen van minder goede ervaringen bij het dragen van lenzen zo snel mogelijk vaststellen en oplossen. Elke uitval heeft economische implicaties op het vlak van inkomsten, klantenbinding en de groei van de praktijk 3. Daarom willen we een beter inzicht bieden in de verschillende factoren die een rol spelen bij het bepalen van de perfecte pasvorm van een contactlens.
Wie een succesvolle contactlenspraktijk wil leiden, moet begaan zijn met de "menselijke factor" en elke klant individueel benaderen. Van het allereerste bezoek bezoek tot het ontwerp van de definitieve lens: alles moet draaien om de klant. Door de toenemende commercialisering en standaardisering, lijken de individuele, unieke kenmerken van elke klant helaas op de achtergrond te verdwijnen. Epidemiologische studies tonen dat de biometrische gegevens van gezonde ogen, in het bijzonder de afmetingen en de vorm van de cornea, individueel aanzienlijk kunnen verschillen. Ook de fysiologie van het oogoppervlak heeft een unieke impact op het draagcomfort van de contactlens, met name omdat die betrekking heeft op de samenstelling en stabiliteit van de traanfilm, de spiertonus van de oogleden, de knipperdynamiek en de toestand van de lid ooglidrand. Tot slot variëren ook optische factoren zoals oogafwijkingen, verschillen in pupilgrootte en accommodatierespons aanzienlijk binnen de optometrische populatie. Als we al deze variabelen bekijken, zal snel duidelijk zijn dat het hoogst onwaarschijnlijk is dat één enkele factor een perfecte pasvorm kan garanderen voor elke lensdrager. Een systematische benadering is daarom mogelijk de beste strategie (Figuur 1).
Begin bij de basis
Bij het bepalen van een strategie is het belangrijk dat je altijd eerst een goed zicht krijgt op de achtergrond en voorgeschiedenis van de klant. Onderliggende systemische of oogaandoeningen of inname/topische toediening van medicijnen kunnen het draagcomfort van de lens beïnvloeden. Het beroep, de levensstijl en de omgeving waarin de lenzen zullen worden gedragen alsook de motivatie en de verwachtingen van de klant zijn essentieel bij de keuze van de juiste contactlens. Tot slot speelt ook het subjectieve gevoel van de klant een rol bij het succes van een lens, en daarom is het belangrijk dat je op elk moment kwaliteitsvolle discussies voert met de je klanten.
Bij het kiezen van de contactlens, kun je vertrekken van de best mogelijke match tussen de behoeften van de klant en de standaardlenzen die je zo ter beschikking hebt. De modaliteit (dagelijkse vs. regelmatige vervanging) en het materiaal (silicone hydrogels vs. moderne hydrogels) van de lenzen zullen meestal de eerste filters zijn die je gaat hanteren om je keuze in te perken.
Wat betreft het materiaal wordt nu algemeen erkend dat silicone hydrogels niet de heilige graal zijn voor wie op zoek is naar draagcomfort van contactlenzen55. Voor sommige klanten zijn silicone hydrogel contactlenzen inderdaad de beste oplossing. Maar voor wie niet gebaat is bij de voordelen van een lens met silicone, is men er via polymeer engineering in geslaagd om een aantal tekortkomingen van conventional conventionele hydrogel lenzen weg te werken dankzij de nieuwste generatie biomimetische hydrogels55. De Ori:gen-technologie die werd toegepast op de gelauwerde Gentle-lenzen van mark'ennovy werkt met een homogeen verknopingsmiddel om een unieke, extra-poreuze matrix te produceren en er daarbij voor te zorgen dat de lenzen een dehydratie ondergaan van minder dan 1%. De uiterst lage wrijvingscoëfficiënt (CoF 0,05), die de gladheid van de cornea zelf repliceert, draagt ook bij tot de bevochtigbaarheid van de lens en het natuurlijke draagcomfort. Een klinische tip: zorg er altijd voor dat je verschillende contactlensmaterialen ter beschikking hebt in je klinische toolkit, zodat je voor elke patiëntklant een keuze hebt, ongeacht diens behoeften of fysiologische kenmerken .
The strategy is pretty straightforward until it comes to the physical fit of the lens, at which time eye care practitioners may start to face some challenges. The limited geometries and parameter range of mass-produced contact lenses and the "one size fits all" approach are some obvious ones. Technological advancements in contact lens mapping provide some insightful observations. One of the most important is that corneal sagittal height should be the most relevant variable for contact lens selection, as it a much better predictor of lens behaviour on eye than central k-readings6.
Although the "sag" language may be familiar to scleral and specialist lens fitters, we may wonder whether it could be equally meaningful to soft contact lens practitioners. We will first focus on corneal diameter for practical reasons: it has shown good correlation to lens performance on eye and it does not require any sophisticated piece of equipment; both of which provide a good reason to include it into our routine contact lens examination. Measuring horizontal visible iris diameter (HVID) can easily be performed with a specific ruler. Studies conducted at the Pacific University College of Optometry found that in 200 consecutive
eyes HVID values ranged from 10.9 to 12.6 mm, with an average value of 11.8 mm1. Approximately 27% of eyes fell outside the 11.3 to 12.2 mm diameter range that can be optimally fitted with an off-the-shelf contact lens.
Expanding our imaging capabilities from the gold-standard corneal topography into the limbus and beyond the corneal area has been instrumental to our current understanding of the anterior eye segment as a whole. Using optical coherence tomography (OCT) and ocular profilometry, average ocular sag was found to be 3735m±186m at a 15mm chord for healthy eyes7. While some ocular sag studies set its variability range at 900m in the normal population, research looking into sag values for available standard soft contact lenses suggests that these may be just covering about one third of that normal range8. Again, this suggests that some corneas will require a contact lens outside the so-called standard parameters.
When it comes to lens attributes, commercialised daily disposable and frequently replacement contact lenses claim fairly similar base curves and diameters. Independent studies by Montani and van der Worp reported marked differences in sagittal height among different brands as well as differences between labelled and true parameters6. In addition, little information is available on peripheral lens designs and edge configuration, which could assist in predicting how the lens will fit on the eye9. It looks like fitting a standard lens could be best described as an empirical exercise: you try the lens and somehow hope it will fit nicely on the cornea.
But what happens when the lens performance is not optimal? It is then when the flexibility of choice in lens parameters and geometries, together with the customisation options in lens design, become critical to achieving the best lens-to-cornea fit (Figure 2). Pupil size/dynamics and ocular aberrations could guide the most advanced optical designs, such as multifocal, multifocal toric or aspheric designs. For instance, mark'ennovy's Smart Multifocal Technology optimizes its optical zone diameters for every addition and CD/CN designs in order to account for the differences in visual requirements as well as the natural evolution in pupil size. This allows for an optimal match between each individual eye's needs and the power distribution across the lens profile, which results in an improvement in visual outcomes.
Conclusion: Place your bets!
The uniqueness of each eye as well as other patient-related factors will explain why a more personalised approach involving custom-made soft lenses is required to optimally fit a substantial portion of your own patient database. Fitting soft, custom-made lenses differentiates yourself as a high-profile eye care practitioner, and your practice as one that stands out for better patient satisfaction and retention.
Figure 1
A systematic approach to fitting custom-made, soft contact lenses by mark'ennovy qualified Customer Services team:
Start with your patient consultation. Record updated spectacle prescription, visual acuity and eye dominance. Collect biometric and corneal curvature data.
Measure HVID at 45 degrees and add 2.5 mm to determine lens diameter (). HVID should be your leading parameter.
If necessary, seek our expert advice on material and geometry selection, including customisable lens design options.
Use manufacturer's lens factor table to determine first lens choice based on input data ( and Km), the material's properties and the overall lens design.
Assess on-eye performance: verify lens centration, lens movement and lens stabilisation. Evaluate visual acuity and physiology as well.
Use fitting tips to compensate for any cyl rotation. Multifocal optimisation should follow.
Figure 2
mark'ennovy unrivalled combination of parameters, geometries and soft materials give you unlimited options to fit a perfect lens to your patient's eye.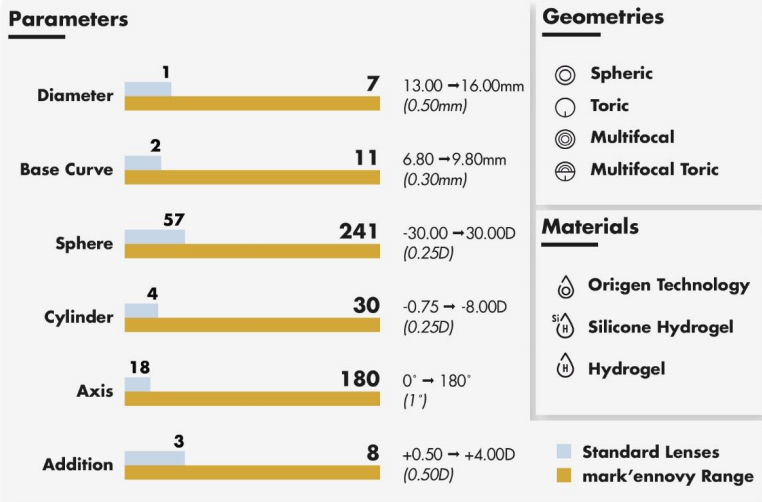 REFERENTIES
Caroline P, André M. "The effect of corneal diameter on soft lens fitting" (part 1). Contact Lens Spectrum 2002;17(4):56.
Wolffsohn J.S. et al. "Bringing expertise back into soft contact lens fitting". Soft Special Edition XXII.
Rumpakis J. "New data on contact lens dropouts. An international perspective". Rev Optom 2010;147(1):37-52.
Syndicated incidence study by an independent research agency. Online survey with adults aged 15+ (n=16,279); France, Germany, Russia, and UK data combined (2013). Quoted by Aslam A. and Haskova J. "Understanding the Effects of Comfort on Contact Lens Dropouts". Eye Health Advisor® by Johnson & Johnson, Edition One, 2014.
Jones L. "Hydrogel contact lens materials: Dead and buried or about to rise again?" Contact Lens Update October 2013.
Montani G., van der Worp E. "BCE vs DIA vs SAG"- Coverage from NCC 2016. Global Contact 2016.
Caroline P. and Kojima R. "Sagittal Height Calculator based on Peripheral Corneal Angle Measurement". Soft Special Edition WorldWide Vision XIV.
Wolffsohn J.S. et al. "Impact of soft contact lens edge design and midperipheral lens shape on the epithelium and its indentation with lens mobility". Invest Ophthalmol Vis Sci 2013;54:1690-96.